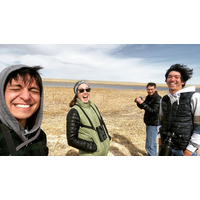 It was nearing the end of my first year as a graduate student at the University of Wyoming, the pressure mounting with my research and other responsibilities. As I walked back from campus, I checked a somewhat unexpected message on WhatsApp from my friend Cristian David Torres; He announced that he would be attending Colorado State University the next semester as an exchange student!
I whooped with joy and spent the remainder of the day elated. We eventually met up in Fort Collins in late January, catching up, taking a walk, and running errands. He was a bit discombobulated but adjusting to the culture shock of living in the U.S., turning every which way in awe and wonder at the snow and common birds here (e.g., American Robin, American Crow, Canada Goose).
Cris and I first met in the sweltering heat of February 2018, joined by our love for grassroots environmental conservation (and eventually birds). Born and raised in Pilar, Ñeembucú, Cris became a docente before pursuing a degree in environmental sciences, volunteering with NGO Para la Tierra, starting his own eco-club, and co-founding Pilar Sustentable. I envied my site mate Bridget for having the opportunity to spend so much time with him (I also wished I could spend more time with her), as I lived 40 km east in a pueblito named Guazucuá. I love(d) my site and rural experience, but I sometimes missed having peers with similar knowledge and passion for ecology. Not only did Cris fulfill that, but he continued to improve on his already proficient English, while still patiently chatting with me in Guarani and Spanish about all topics under the Paraguayan kuarahy.
Four years after we first met, our reunion under a slightly less burning sun rekindled a small connection that to a country that is all about deep connections. Since the COVID-19 evacuation in March 2020, I followed Cris more closely on Instagram, watching him develop as an ornithologist. This continued to nurture my love of birds, the ones in Paraguay and the U.S., and I knew once Cris came to the Intermountain West, we would rejoice in the spring migration together. In the beginning of April, he, his partner, my friend Paul, and I embarked on a birding trip, scope and binoculars in hand, to search for shorebirds and waterfowl that frequent the reservoirs in southern Wyoming. We reveled in the long journeys these species take and how some exact species, if not cousins of sort, can be traced all the way down to Paraguay and back. Just like in Paraguay, I find myself grounded and inspired by our natural world, even more so when you can share it with others, no matter their culture or identities. Although I dread Cris' return to Paraguay in May, I know that this experience strengthened his relationship with some of us RPCVs and similarly proffered us the friendship and connection we so dearly miss from Paraguay.
- Emily Donaldson, FoP Board Member
---