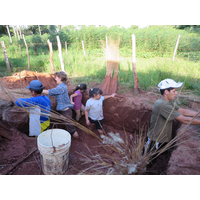 On arriving in Ysypo, Departamento Misiones, I stayed with my point of contact for around a week and spent the next three months transitioning to stay with nine different families.
This was like a dunking booth into my community's culture - shifting neighborhoods and managing to skirt involvement in the chisme from one to the next, all while learning Guaraní and keeping my stomach happy with the changes in diet, like cow eyeball for lunch! (I think this was a friendly joke because of my hyper curiosity about the culture).
Nearly a year into service I applied and was accepted to the Peace Corps' biodigester working group. My excitement was based on the technical interest of the biogas process and the construction, but also the opportunity to share with the community a relatively simple technology that could contribute to their cooking needs.
Fast forward six months and the biodigester at the local agricultural school was not working. This was the example biodigester, built during a workshop with the community including families that would participate in three home constructions. We filled it with caca de chancho in hopes of producing the gas that would then in turn cook the alimentación, or pig food. After various weeks and attempts, Homi, the Peace Corps technical advisor on the project, suggested finding a fresh cow stomach to insert and boost the enzyme production in the mixture.
I have a hard time thinking of any other circumstance where a supervisor would suggest finding and transporting a fresh cow stomach, but that's the beauty of Peace Corps service. Coincidentally, I lived next to a butcher, so this was not a rare occasion or material to find. It would take amnesia to forget the morning I biked three miles in the sand to deliver fresh cow stomach to the biodigester. Luckily, it paid off and methane production started sometime around a few days to one week later.
Other memories that are more like a feeling of being in the right place include dawn mate with farmers before hoeing the fields or milking cows; cows untimely and predictable station at my window screen as the morning alarm (the "right place" feeling for this one is only hindsight); children's eagerness to teach me Guarani and learn English; "eso!" from across the valley when the polka played loud enough; dancing everyday and for no special reason. This is what I love and miss about Paraguay, but the spirit of resilience and self-sufficiency, caring for family and community, cooking meals and sitting together is imparted on me. I'm grateful for the experiences and relationships, and recommend Peace Corps to anyone interested in testing their boundaries, pushing their expectations aside, and enjoying people and the magic of collaboration.
Stacy Shutts
Peace Corps Paraguay, G-40, 2012-2014
---