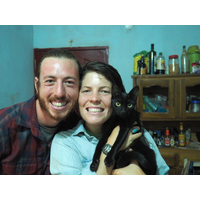 Hello, Friends of Paraguay! I am Alli Bell Kintish, and I served in Paraguay from 2017 up to the evacuation in March 2020. My husband, Dylan, and I were in Yatytay, Itapúa for our service as environmental conservation volunteers, and then extended in the Gran Chaco to help with re-entry efforts.
A bit of my background - I was an AmeriCorps National Civilian Community Corps member and team leader for two years from 2011 to 2013 following college graduation, which sparked the idea that maybe Peace Corps could be in my future. After a few years working in the non-profit space in Denver and getting married in August 2017, Dylan and I set out for Paraguay in September 2017.
I don't know that I have any super revelational stories about Paraguay – my service was probably similar to many of you in that is was challenging and hard, but filled with loving people that helped me through, countless guampas of tereré, and too many sweaty colectivo rides. In a recent encounter, I was in an ice cream shop in Denver (where I currently live) and the owner had a photo of himself in Asunción drinking tereré on the wall (along with 30-40 other photos of his excursions across all 7 continents). I of course asked him about it, and he was so excited to talk about how the Paraguayan people are some of the friendliest and most genuine of anyplace he had ever been (and he's been to a lot of places). He also talked of his encounters around the globe with RPCVs, and how they had given him directions, recommendations, or a place to crash for a night in many instances. It was great to see that the spirit of Paraguayan people and the inclination to help from RPCVs were his big takeaways.
I am super passionate about national service, and truly think that it is one of the most tangible and effective ways to build empathy. I am so excited to sit on the FoP board for this next term, and give back to the country and RPCV community that has been such a rich part of my life. If you ever want to see campo kitty photos, I am happy so send you some of Michimi, our Paraguayan-turned-Estadounidense kitty cat!
---