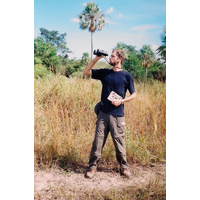 Before moving to Paraguay to serve as a Peace Corps Volunteer, I had worked in a small family-owned camera store for close to ten years. Most of our business was photofinishing and services, but we also sold amateur photography equipment. As a photographer, I was very knowledgeable about almost everything that we sold, but we also sold binoculars and no matter how often I held them and explained their features to customers, I really did not have much interest in using binoculars. When some customers revealed that they were "bird watchers," I would force a smile and feign enthusiasm for their hobby; my smiles quickly melted as soon as they turned away (regrettably, I am sure that there were even a few covert eye rolls included in my display of disinterest). Even though I grew up in a rural wooded area and could identify every bird that came to our feeders since a young age, my 'interest' never advanced beyond "yard birds." That would soon change when I moved to Paraguay where the "yard birds" were some of the most beautiful birds I had ever seen. Well, maybe I shouldn't say that my interest "soon" changed because it wasn't until my final year as a volunteer that I would become a "birder"—and a die-hard birder at that.
My first site placement was in departamento Boquerón in the Chaco. I lived in a Mennonite colony and wasn't able to get out and explore much of the Chaco beyond what was accessible from my community by bicycle (also, considering that the jaguarete lurks in this part of Paraguay, I was careful not to wander too far). Although there was the occasional samu'u tree to remind me I was in the Gran Chaco, there wasn't much other dynamic flora or fauna in the "city" to catch my attention except for the occasional snake that made its way into someone's yard (and usually didn't make it out). One day, as I was walking down one of the visually unstimulating straight, flat, dusty roads to one of the schools, a small multi-colored bird landed right in front of me. I stopped immediately and could not believe what I was looking at; I thought there were just too many colors for this to have occurred in nature and it was a stark contrast with the subdued browns and greens of the Chaco. To this day, I have no idea what it was, but I can still remember how amazed I was.
After six months in the Chaco, I moved east of the Rio Paraguay to a small community just outside of Atyrá called Tukangua Cañada. As I began to notice other fascinating birds, I was just as intrigued by what I heard as I was by what I saw. I began asking community members "what's making that noise?" With great pleasure, some people would explain the bird and then replicate its call. One enthusiastic man would always start to sing a folk song about the particular bird once I asked about it. One of the first birds whose call caught my attention was the Giant Wood Rail (Aramides ypecaha; Ypaka'a in Guaraní—note the similarity between the species name and the local name), which frequented the arroyo in front of my house. Its call is reminiscent of a person screaming or a puppy yelping, depending on the intent of the call.
After about eighteen months in country—nine months in my new site—I took a vacation and went back to the Chaco to visit two volunteers (they met and married during their service!) whose site was almost all the way at the border with Paraguay, Argentina, and Bolivia near the Pilcomayo River. We took a walk out the river one day and I saw my first Jabiru (Jabiru mycteria, Yabirú in Guaraní), which is a type of stork with a black head, white body, and red collar. When the magnificent bird lifted up from the river and flew over me, I became a "birder" at that very moment—and my life would never be the same. When we got back to the volunteers' site, I looked through their field guide of South American birds and was absolutely fascinated. After I returned to my site, I arranged to get a similar field guide from the U.S. and went to Asunción to buy my first pair of binoculars (ever). At around US$25.00, they were the best I could afford while at the same time worse than anything that I had ever sold (or held!) at the camera store all those years, but they worked (for the most part). I carried those binoculars and that field guide with me everywhere I went until the moment I got on the plane to leave South America. I even bought a special little bag made by a Nivaclé artisan in the Chaco to carry the field guide. Birds and birding became my new connection with Paraguay. People in my site were constantly asking to look at my guide and looking through my binoculars. I even brought the Paraguayan NGO, Guyra Paraguay, to my site to host a guided bird walk when it became apparent how much interest there was.
In my final month as a volunteer, I borrowed the 8mm video camera from the Peace Corps library and filmed my site. The host family with whom I had lived during my first six months in site has a lot of land with many animals, and people in the community come to buy meat, milk, eggs, etc. in the morning. While I was filming the milking and butchering one morning, I told my host mother about how I had captured good images of kingfishers, hawks, and woodpeckers the day before. She pointed to the cover of my omnipresent field guide said, "why don't you film that too?" She was pointing at the Chestnut-eared Araçari (Pteroglossus castanotis australis, Arasari in Spanish), which is a type of small colorful toucan. As a young ignorant birder, I said something along the lines of "yeah, right. As if I could just go find and film whatever bird I want!?" She pointed to the tree above where she was milking and calmly replied "well, they are in that tree every morning at sunrise." I found it hard to believe that she was identifying the correct bird by merely glancing at the cover of my book, but I did know her to be an incredibly wise woman, so I figured that I had nothing to lose by coming back the next morning at daybreak.
When I arrived just before sunrise with the video camera, she passed me a guampa for my ha of mate and I asked, "well, where are these toucans?" She took back the guampa to refill it and simply nodded her head in the direction of the tree. I looked up and there were three Chestnut-eared Araçaris who had just emerged from their tree cavity nest! At this moment of my life, I would not have been any more excited filming aliens walking off their spaceship; this was, after all, a "life bird" for me (first time seeing it in my life). As I began filming, I asked her, "why didn't you ever tell me that they were there!?" (the tree was right outside the room where I had slept for six months). After she casually handed me my next ha of mate, she simply looked off into the distance and softly replied, "you never asked." Lesson learned. I did, after all, live in "Tukangua."
The first thing that I did when I returned to the U.S. was buy a field guide to the birds of North America and a very nice pair of binoculars, which I still use today (every day—and, yes, I bought them from a family-owned camera store just like the one where I had worked!) Thank you, Paraguay, for opening my ears and eyes to the world around me and for truly changing my life.
Curt Davis
G7, 2001-2003
Image: Curt posing with his field guide and borrowed binoculars during a bird walk led by Guyra Paraguay
---