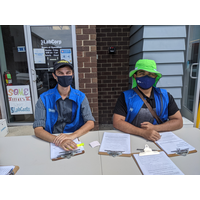 Peace Corps Response COVID-19 was a three-month long service that partnered with FEMA to assist with the vaccination effort around the United States. Our tasks ranged from administrative aid for vaccination sites to community outreach and language support.
My Peace Corps Response assignment would not have happened without my previous Peace Corps service in Paraguay. This service not only fulfilled a Peace Corps Response application requirement, but it also demonstrated my personal resilience and professional adaptability. Changing schedules and challenging work were staples of Peace Corps Response. Adaptability was critical, and I felt prepared thanks to my service with PC Paraguay.
The most rewarding experience of domestic service was knowing, rather quickly, that we were actually making a change. In all of the counties we involved in outreach, COVID-19 vaccination percentages increased dramatically. We encountered lots of people in the street and discovered that all they needed was to know where a vaccination center was. Most people just needed a little encouragement and reassurance.
Through this experience I learned that everyone deserves a chance. Volunteers never knew where we would find an ally for the vaccination effort—a church, a non-profit, a benefit, an association, or an individual—, and it was always a joy to discover how many people are open to change. The fear of people being unwilling to change was my initial challenge. Thanks to my co-workers and the support of the people of New Jersey (the state where I served), we were able to overcome that challenge.
Alejandro Rene Salas Hernandez
Peace Corps Response, RPCV Paraguay
---