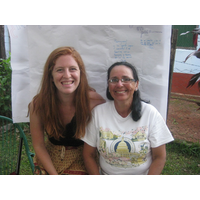 I arrived in San Francisco, Misiones with minimal language abilities. As an extrovert wanting to make my site feel like home as soon as possible, attending birthday parties became my full-time occupation. At my first birthday party, I was seated next to a señora named Tina. I was able to get out -- "Hi! My name is Nora and I'm from the capital of the US." Tina responded, "Oh! Washington, D.C…." She certainly said a bunch of things after that but my low Spanish comprehension skills would require months of lunches at her house to fully understand our shared connection to my hometown.
After one of many delicious chicken vori vori meals hosted by Tina, she called her son and passed me the phone to introduce us. He spoke English! At last I was able to fully express my gratitude to a Paraguayan. I let him know how much I appreciated his mother's hospitality and hoped to meet him one day if he was able to travel six hours south down Route 1 to visit from Asunción.
Months went by in my site. I brought my dictionary and notebook to every tereré gathering. I listened to the local news on the radio during the siesta. And the lack of WiFi, little by little, facilitated my language attrition. My parents' weekly Sunday phone calls (when rain didn't impede the connection) via calling cards to my not-so-smartphone were the extent of my non-Paraguayan related activities during the beginning of my service.
One Saturday afternoon, as I was reading in my hammock, my phone rang, and I recognized a US number on the caller ID. I was immediately alarmed because it was Saturday, not Sunday. "Hello?" It was my Mom. "Mom, what's up? Is everything okay?" She replied, "Hold on one second." I insisted, "Mom! Is everything okay?" There was a pause, then shuffling sounds. A moment later I heard, "Mba'éichapa." Surprisingly, I did not fall out of my hammock, but the hummingbirds and chickens surrounding me were certainly alarmed by my shriek.
Tina's son was in Washington scouting out job opportunities and housing options for his wife and children to eventually follow suit. He told me, "I wanted to be sure to visit your mom since you've been visiting mine."
He called my mom when he happened to be at a shopping center five blocks from my house. My mom asked him to please wait there and she'd meet him momentarily. They shared a coffee and called me.
More months went by and my first Christmas away from home loomed. Tina invited me to stay at her house for a couple of days so we could build the feast together. In true living in the moment fashion, exact plans and guest list for the Christmas gathering were not confirmed until the day of. Tina's son arrived with his wife and two small children right before lunch on Christmas day.
As her son stepped out of the car I immediately got goosebumps. In his hands, I recognized a package sure to be put together by my Mom. His young children rushed to their grandmother and after a long embrace went off on their own to explore the endless entertainment the campo provides. Within minutes of chatting, he said, "Wow, you are so much like your Mom." The tears flowed. It was a bittersweet moment that assured me this town I had inhabited for the past year would now be one of my homes for the rest of my life.
Abrazos,
Nora Ivory
---